Hanuman won the record six strong J Class at the Saint Barths Bucket, the first regatta of a milestone J Class 2017 season, but the outcome could not have been closer.
Victory in the final race of the event, the 21 mile clockwise passage around St Barthelemy, means they finished the five race series with an identical, facsimile set of scores to Velsheda, but win on tie break. Ironically the popular showcase Caribbean regatta finished on the same note is started. On Thursday Velsheda and Hanuman finished Race 1 tied on exactly the same corrected time. Over the next three days both crews won three races – including the shared Race 1 win – and earned a second and a fourth apiece.
It is not just the top two which tied. Underlining just how close racing is in this six boat fleet, Lionheart and Ranger finish on the same aggregate as each other, 18pts tally. Lionheart's second in today's the last race also proves the decider, giving third overall to the black boat skippered by Bouwe Bekking.
"We saved our best for last." Winning skipper-helm Ken Read observed. "That was a great race. But we had to get lucky. Sometimes your luck goes with you. Velsheda have sailed a brilliant regatta. And they had to be fourth and they were fourth. I have been in their shoes and it is no fun. But I give our team a heap of credit. We sailed the boat well today. We are learning and today was our best day." …read more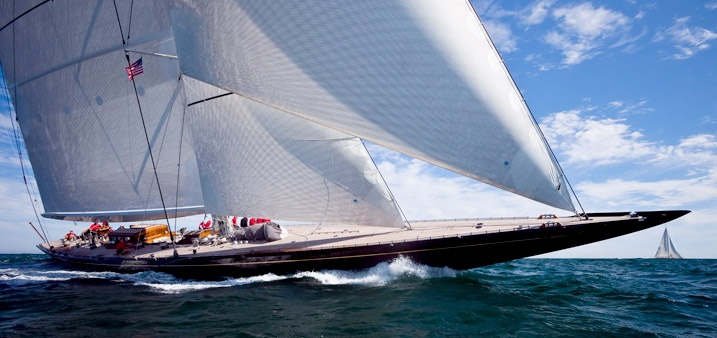 Final Results after five races, no discard
1 Hanuman 9.5 (1.5, 2,4,1,1)
2 Velsheda 9.5 (1.5, 1,1,2,4)
3 Lionheart 18 (7,4,2,3,2)
4 Ranger 18 (4,3,3,5,3)
5 Topaz 23 (3,5,6,4,5)
6 Shamrock 28 (5,6,5,6,6)
Pursuit Classes Series after three races
Pursuit Classes Race 1 17 March 2017 (pdf)
Pursuit Classes Race 2 18 March 2017 (pdf)
Pursuit Classes Race 3 19 March 2017 (pdf)
J Class Overall: after five races (pdf)
J Class Race 1: 16 March 2017 (pdf)
J Class Race 2: 16 March 2017 (pdf)
J Class Race 3: 17 March 2017 (pdf)
J Class Race 4: 18 March 2017 (pdf)
J Class Race 5: 19 March 2017 (pdf)