THE "FIVE-TEN"
C. Raymond Hunt "In 1945, I designed the original "510" class yacht for myself as a logical development of the "210".
Launched in December 1945 as a racing and weekend cruising yacht. She is built with no structural keel, and is constructed with two longitudinal trusses on oak floor stiffeners extending to the after end of the cockpit to the mast evenly distributing the stresses of the rig and keel.
Low wetted surface area with a separate rudder-skeg / bulb fin keel, a concept Raymond Hunt embraced long before Lapworth or Giles, should prove to be a spirited performer, with comparable speeds of 8 meters and Q-boats.
Known Racing History:
1949 – NYYC Cruise – Beat the 72'0″ Yawl "Bolero" boat for boat, with Raymond Hunt and his wife sailing against a full paid professional crew on board "Bolero"
Historical:
The one and only 510 built, named after Raymond Hunt's wife Barbara.
Hunt International 510 "Barbara" Specifications:
LOA: 44'7″ / 13.62m
LOD: 44'7″ / 13.62m
LWL: 32'6″ / 9.93m
Beam: 6'7″ / 2.04m
Draft: 6′ 0 / 1.82m
Ballast: 5,200 lbs Galvanized steel plate/lead casting
Displacement:
Sail Area: 519 sq ft
Yard Number:
Hull material: "Harborite" Plywood Construction
Rig: Sloop
Designer: C. Raymond Hunt
Built by: Graves Yacht Yard
Year Designed: 1945
Year Built: 1949
Original Contract Cost: $6,000
Restored By:
Current Name:
Original Owner: C. Raymond Hunt
Current Owner:
Sail Number: 510/1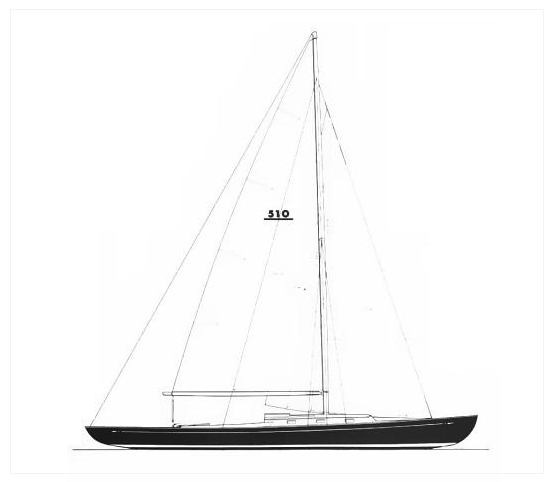 International 510 Revisions (March 27, 1975)
In 1975 C.J. Frankham, esq, Aukland, New Zealand wanted a inexpensive high performance owner operated yacht and decided to have CR Hunt and Associates revise and update the 1945 drawings of the 510 class yacht that Ray Hunt built for himself. The design of the hull was left basically unchanged, but the sailplan was updated. The main was increased 35 sq ft to 335.8′ P = 39.5′ E = 17′ and the jib was increased to measure 215 sq ft I = 37.5′ J = 11.5′ The accommodations were also updated to include 2 berths and settees with a head and small galley located in the companionway for the additional headroom.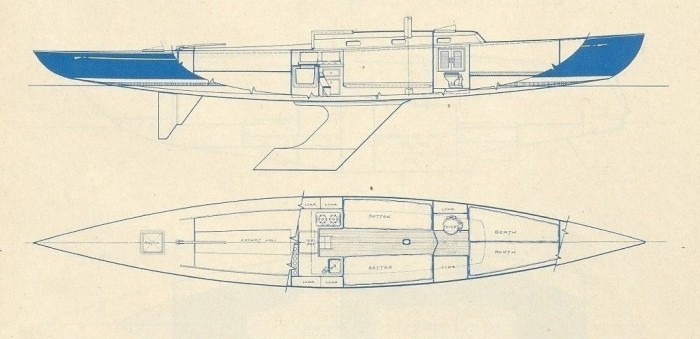 Also Modified from the original boat is the deck plan. A self-bailing cockpit replaces the split-cockpit arrangement. The Interior plan, that accommodates 4 people, has been changed to suite the owners requirements.
Although the 510 design was revised for construction to occur in New Zealand, it was never finished. A reported fire in the barn which housed the owners business and the 510 under initial construction were all lost.
Specifications:
LOA: 43'1″ / 13.13m
LOD: 43'1″ / 13.13m
LWL: 32'6″ / 9.93m
Beam: 6'7″ / 2.04m
Draft: 6′ 0 / 1.82m
Ballast: 5,600 lbs / 2545kg
Displacement: 6,900 lbs / 3136kg
Sail Area: 551.4 sq ft / 51.2m2
Disp/Length Ratio: 90
SA/Disp Ratio: 24.4
Design Number: CRH – 510
Hull material: "Harborite" Plywood Construction
Rig: Sloop
Designer: C. Raymond Hunt Associates, 63 Long Wharf, Boston, MA
Built by:
Year Redesigned: March 27, 1975
Year Built: Never Completed
Contract Cost:
Restored By:
Current Name:
Original Owner: C.J. Frankham, esq
Current Owner:
Sail Number:
International 512 (Company Offered) Revisions (2010?)
LOA: 43'1″ / 13.13m
LOD: 43'1″ / 13.13m
LWL: 31'11" / 9.48m
Beam: 8'0″ / 2.43m
Draft: 6′ 0 / 1.82m
Ballast: 5,600 lbs
Displacement: 6,900 lbs
Sail Area:
Design Number:
Hull material:
Rig: Sloop
Designer: C. Raymond Hunt Associates
For Inquiries: C. Raymond Hunt Associates
Built by:
Year Designed: 2010?
Year Built: Offered for Spec
Contract Cost:
Restored By:
Current Name:
Original Owner:
Current Owner:
Sail Number: