While Hollywood was enjoying the greatest output of feature films in the 1920s and 30s (averaging about 800 film releases in a year, nowadays it is remarkable when production exceeds 500 films in a year, the magnificent yachts of the Hollywood elite began sailing routinely to Catalina.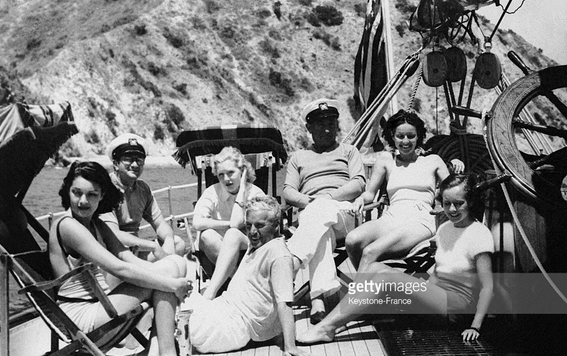 Albert Stanton Chesebrough – INVADER – Owned by American Film Studio Executive. Joseph Schenk (1929-1935), along with Charlie Chaplin, one of the founders of United Artist, a company the fit into Schenk's business plans, would use this vessel and many others including Paulette Goddard for excursions to Catalina.
Sparkman & Stephens – SANTANA – Along with long time owner Humphrey Bogart, Lauren Bacall (1945-1957), their friends Frank Sinatra, David Niven, and the 'Holmby Hills Rat Pack'…
John G. Alden – SIROCCO – Nearly every weekend the Hollywood elite would race their yachts to Catalina Island, all would bet on the outcome.
Garland Rotch – ZACA – Film star Errol Flynn spent many days, after having purchased Zaca in 1945, erasing all the gray paint from her years as a coastal patrol boat. Orson Welles, Norah Eddington, Rita Hayworth, would all make their way on Zaca to William Wrigley Jr's famous Island, resort and casino.
Relive some of the famous Catalina Island history, the go-to destination for so many….
The Great White Steamers: SS CATALINA and SS AVALON – Operating together by William Wrigley Company, these great ships provided passenger service on the 26-mile passage between Los Angeles and Santa Catalina Island from 1924 to 1975. According to the Steamship Historical Society of America, the SS Catalina has carried more passengers than any other vessel anywhere.
The Catalina Island Museum – To collect, preserve and promote the culture and history of Santa Catalina Island and to bring unique exhibitions to Catalina.