2016 marks the Golden anniversary of this iconic race , and the 90th anniversary of the relationship between the Cruising Club of America and the Royal Bermuda Yacht Club. The third largest fleet in history are off on the 635-mile biennial Race to St. David's Lighthouse, Bermuda.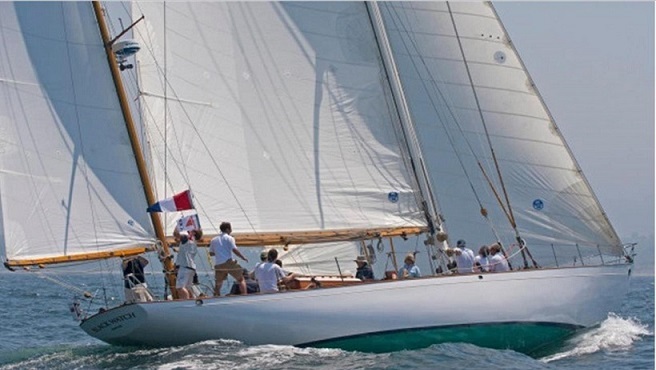 Approximately 190 boats from 23 countries with 41 US states are represented in this fleet. Of the Classics, USA71, the 1938 Sparkman & Stephens yawl Black Watch, winner of a special seamanship prize in 2014 are among the notable classics along with Spirit of Tradition  Altair, America, Farfarer and the Spirit Of Bermuda.
The Bermuda Race Roll of Honour recognizes the contributions of sailors to the race's stature and long history. Honorees are Thomas Fleming Day, race founder in 1906; Clarence Kozlay and Robert Somerset, who together saved the lives of ten sailors from a burning boat in the 1932 Bermuda Race; Sir Eldon Trimingham, who revived the race and represented the Royal Bermuda Yacht Club for many years; Carleton Mitchell, three-time race winner 1956-60; George Coumantaros, skipper with the most elapsed time victories and sailor in 26 Bermuda Races; Olin J. Stephens II, designer of many Bermuda Race winners and a longtime race advisor; and (most recently) Bermudian Warren A.H. Brown, who sailed in 20 Bermuda Races and voyaged to the corners of the seas.
Purpose
The purpose of the race was stated in 1923 by Cruising Club of America Commodore Herbert L. Stone: "In order to encourage the designing, building, and sailing of small seaworthy yachts, to make popular cruising upon deep water, and to develop in the amateur sailor a love of true seamanship, and to give opportunity to become proficient in the art of navigation. . . ."
History
First Bermuda Race, May 1906, Brooklyn to Bermuda. There were three starters between 28 and 40 feet in length. The winner of the Sir Thomas Lipton Trophy was Tamerlane, 38-foot yawl owned by Franklin Maier, skippered by Thomas Fleming Day.
Bermuda Race progeny:  The race inspired the Fastnet Race in England, the Port-Huron to Mackinac Race on the Great Lakes, and the Off Soundings Club (among others).
Accidents: Boats lost: two (Adriana, fire 1932; Elda, grounding 1956). Lives lost, one.
Fastest race: Rambler, 39 hr., 39 min., 18 sec. (ave. 16 knots), 2012
Slowest race: Venturer, 121:13:12 (ave. 5.2 knots), 1960
Largest winner: Margaret, 93 feet, 1909; (modern) Boomerang, 80 feet, 1996
Smallest winner: Burgoo, 37 feet, 1964
Most victories, skipper—
3 (tie)— John Alden in three Malabars (1923, 1926, 1932), and Carleton Mitchell in Finisterre (1956, 1958, 1960)
2 (tie)— Robert N. Bavier Sr., Memory (1924) and Edlu (1934); Richard S. Nye, Carina (1952, 1970); Peter Rebovich, Sinn Fein (St. David's Lighthouse Division 2006, 2008); Rives Potts, Carina (St. David's Lighthouse Division, 2010, 2012)
Most victories, boat—
3—Finisterre (1956, 1958, 1960), Carina (1970 and St. David's Lighthouse Division, 2010, 2012)
2 (tie)—Baruna (1938, 1948) and Sinn Fein, Peter Rebovich (2006, 2008)
Successive victories—
3—Finisterre (1956, 1958, 1960)
2—Sinn Fein(2006, 2008), Carina (2010, 2012)
Non-U.S. winner: Noryema, U.K., 1972
Freshwater winner: Scaramouche, Chuck Kirsch (Sturgis, Mich.), 1974
Most first to finishes, skipper:  4, George Coumantaros in two Boomerangs (1984, 1990, 1992, 1996).  Most first-to-finishes, boat: 3 (tie): Baruna, (1936, 1946, 1948), Bolero (1950, 1954, 1956), Boomerang (1984, 1990, 1992).
Most wins by a yacht designer: Olin Stephens, 14 (1934-1994)
Winning skippers who also won America's Cups – Harold S. Vanderbilt, Ted Hood
Most races by a sailor:
30—Jim Mertz, (every race except two, 1936-2004)
26—George Coumantaros
24— Edward Greeff and Edwin Gaynor
Most races by a boat under one owner:
16, Emily—Edwin Gaynor (1978-2008)
15, Prim—Gibbons-Neff family (1954-82, 2008)
Most races by a boat:
21, Carina – Richard S. Nye  and Rives Potts (1970-2014)
Women sailors:
First, Thora Lund Robinson, Gauntlet, 1906 (the first race)
First woman skipper, Queene Hooper Foster, Sephedra, 1986
Highest placing woman skipper, Sheila McCurdy, Selkie, 2nd, 1994 and 2008
Oldest winning skippers:
74—DeCoursey Fales, Niña, 1962
72— George Coumantaros (1996) and Peter Rebovich (2008)
Youngest winning skipper:  Kyle Weaver, Constellation (US Naval Academy) 1992 (22 years old.