Portland Maine Nov 29, 1902 – The captain of a steamer that arrived here this afternoon reported that the famous old schooner Polly was ashore at Owls Head near Rockland. As the craft was light it is believed that she will be floated.
The Polly is the oldest sailing vessel in commission. She was built in 1805 and in the war of 1812 was used as a privateer and was instrumental in the capture of an English gunboat off the coast of Maine.
She has been partly rebuilt several times, but her frame is practically the same oak timber used when she was built at Amesbury, Mass.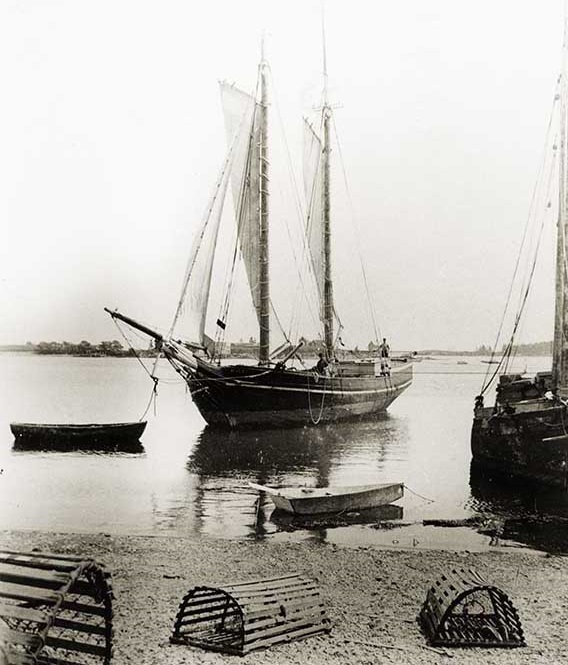 Her sails are up and drawing, but the ancient (1805) schooner Polly is going nowhere. She's hard aground, and the tide is dropping fast, skipper Chandler Farr probably having gently nosed her ashore for caulking and painting her bottom. This is in Owls Head Harbor where Farr made his home. Although built in Amesbury, Massachusetts, Polly was homeported in Rockland from 1876 to 1902, and before that in Mt. Desert. Later, she was registered in Belfast.
Owls Head, ME – Catalog Number LB2013.21.373
Specifications:
Polly – Launched: Amesbury, Massachusetts, 1805, Construction: white oak, "firm and stout," – Built by: Richard Currier (named after his wife Polly Rowell) She is 48 tons burden, gross; 61 feet water-line length; 19 feet, 6 inches, extreme beam, and draws S feet forward and 7 feet aft, unloaded.
References:
The Sun., November 29, 1902
Melissa Davenport Berry and AnceStory Archives
Penobscot Marine Museum