January 13, 1840, after a weekend of deliberation, Judge Judson ruled that the Amistad captives were "born free" and kidnapped in violation of international law. They had mutinied, he said, out of a "desire of winning their liberty and of returning to their families and kindred." He ordered that the Amistads be "delivered to President Van Buren for transport back to Africa." He ended his opinion with the observation, "Cinque and Grabeau shall not sigh for Africa in vain. Bloody as may be their hands, they shall yet embrace their kindred." The Grampus sailed out of New Haven harbor without its black passengers. Van Buren was described as "greatly dissatisfied."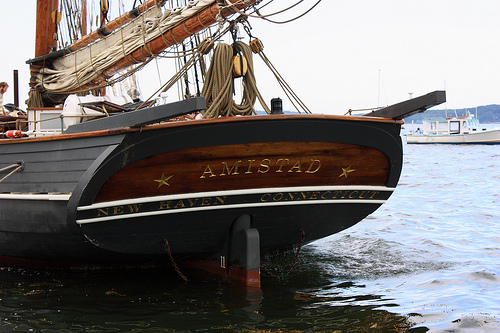 The improbable voyage of the schooner Amistad and the court proceedings and diplomatic maneuverings that resulted from that voyage form one of the most significant stories of the nineteenth century. When Steven Spielberg chose the Amistad case as the subject of his 1997 feature film (LINK TO REVIEWS), he finally brought it the attention the case had long deserved, but never received. The Amistad case energized the fledgling abolitionist movement and intensified conflict over slavery, prompted a former President to go before the Supreme Court and condemn the policies of a present Administration, soured diplomatic relations between the United States and Spain for a generation, and created a wave of interest in sending Christian missionaries to Africa.
Sources:
The Amistad Case – by Douglas O. Linder (2000)
* Noteworthy
1840 – The steamship Lexington burns and sinks four miles off the coast of Long Island with the loss of 139 lives.
1893 – U.S. Marines land in Honolulu, Hawaii from the USS Boston to prevent the queen from abrogating the Bayonet Constitution.
1888 – The National Geographic Society is founded in Washington, D.C.
1910 – The first public radio broadcast takes place; a live performance of the operas Cavalleria rusticana and Pagliacci are sent out over the airwaves from the Metropolitan Opera House in New York.
1966 – Robert C. Weaver becomes the first African American Cabinet member when he is appointed United States Secretary of Housing and Urban Development.