Type: R-Boat
George Owen Bernida Specifications:
1921-1925 ex Ruweida III, ex Saint Claire
LOA: 32'0″ / 9.75m
LWL: 24'3″ / 7.40m
Beam 8'0″ / 2.43m
Draft 5'4" / 1.64m
Hull Number: 38
Designer: George Owen
Original Owner:
Current Owner: Michigan Maritime Museum
Year Built: 1921
Built By: George Lawley & Sons
Hull Material: White Cedar and Mahogany
Displacement: 10,000 lbs
Sail Area: 734
Sail Number: R-38
Historical:
George Owen, a Massachusetts Institute of Technology naval architecture professor, designed Bernida in 1921 and, four years later, she raced in the first Port Huron-to- Mackinac Island race in 1925 under the direction of then owner Russ Pouliot of Detroit. Mr. Pouliot had enhanced the yacht's original design by lengthening her keel six inches, making her extremely fast, winning the inaugural Bayview Yacht Club-sponsored race. The race featured just 12 boats. Weather conditions turned sour, and Bernida, out ahead of the storm, sailed into Mackinac Island on July 27 with a corrected time of 48 hours. Only three other boats finished the inaugural race.
Two years later, in 1927, Bernida sailed in her second race under new owner Robert Byant. The sloop made headlines again, winning the race once more with a time of 52 hours, 50 minutes.
After her second victory, the Bayview Yacht Club questioned the Bernida's speed. Following a change in race boat qualification criteria that specified keel measurements must follow original designs, Bernida was disqualified from competing in sanctioned yacht races
Restoration:
2008 2010 – Roman Barnwell, a Mackinac Island boat builder along with sponsor Bob Brown, general manager of the Arnold Transit Company and many volunteers – Replaced 90% of the frames, 20% to 30% of the planking, new deck, new cockpit, new mast, boom… Al DeClercq of Doyle Sails in Detroit, donated sails to the project. List of partners Arnold Line, Doyle Sails and Matt and Rene Graff of Arbor Brewing Company in Ann Arbor, Michigan. The sale of each keg meant an additional $15 for Bernida.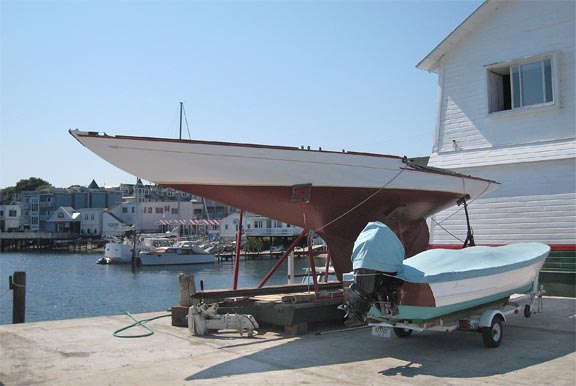 Known Racing History:
1927 – Mackinac Race Winner
July 27, 1925 – 1st Mackinac Race Winner
Known Ownership History:
2014 – Bart Huthwaite, Woodbluff
2011- Mr. Declercq, president of Doyle Sails – Bought the boat on Ebay
2008 – 2011 – Roman "Emory" Barnwell, Mackinac Island
2005 – 2008 – Bart Huthwaite – Mackinac Boating Heritage Foundation – Unable to raise restoration funds 175k
XXXX – 2002 – Bob Lucas
1926 – ? – Robert Byant
1925-1926 – Russ Pouilott, Detroit – Owned the Poulliot Boat Works