Type: Corinthian One-Design
ex, Ding Bat?
LOA: 24'9″ / 7.58m
LWL: 15'0″ / 4.57m
Beam 6.1′ / 1.85m
Draft 4'11" / 1.25m
Hull Number: 31b(c)(d)
Designer: John G. Alden
Original Owner:
Current Owner: Allan Brouillet
Year Designed: 1913
Built By: Stearns & McKay, Marblehead, MA
Hull Material: 11/16″ cedar planking, oak frames
Gross Displacement:
Ballast: 1,200 lbs (iron)
Sail Number:
Sail Area: 310 sq ft
Contract Cost: $550.00
Historical:
Current Owner Allan Brouillet – I am presenting the following history of the sailboat that Brenda and I named "Cori 1", the last remaining Alden Corinthian class sailboat, as it was relayed to us by the prior owner, Dr. James Ross, then of Sandusky, Ohio. Some of the history is based on written documentation, which is attached. Some is based on verbal history passed down through the prior owners, of which Brenda and I are the current owners. Brenda and I cannot vouch for the degree of accuracy of the verbal history, but instead of risking its loss, I am passing it to you as accurately as we remember it.
During 1912 John Alden designed a knockabout sailboat as a fleet racer for the sailors of the Corinthian Yacht Club of Marblehead, Massachusetts. He named the sailboat design the "Corinthian". It was initially designed as a gaff rig sloop and was identified in Alden records as design #20. Sometime during the construction process a decision was made to construct some of these boats with a Marconi rig. The Marconi rig Corinthian was given a separate design number, this being #31. In 1993 correspondence to Dr. Ross, an Alden Co. representative indicated assigning a separate design number based on rig type for the same hull was not "customary routine". Regardless, a number of the Corinthians were constructed with the Marconi rig including Cori 1. For both designs, the large area of the mainsail resulted in a mainsail boom that extends beyond the stern necessitating the use of running backstays. Accompanying this history are the design #20 and #31 drawings. Both show the use of a block system to release and tighten the running backstays. However, Cori 1 employs a bronze running backstay track with a track car and a car lock. Since she is the last surviving Corinthian we assume that some of the other Corinthians also employed this running backstay track design. It may also have been a later upgrade that was acquired by a subset of the Corinthian owners.
Based on verbal history relayed to me by Dr. Ross, sometime thereafter (most likely during the 1930's) the General Electric Company (GE) bought some of the remaining Corinthians from the Corinthian Yacht Club boat owners and transported the boats to a GE corporate retreat located on Lake Champlain. The boats were made available for use to those people staying at the retreat. Given the Corinthian's club racing roots it seems inevitable that the sailing characteristics of the Corinthian would eventually exceed the capabilities of an unfortunate person at the tiller, and as a result, the boat (or possibly some boats) sunk. To prevent this event, or events, from happening again, GE constructed flotation tanks for the Corinthian(s). Two elongated tanks were placed in the stern on either side of the rudder post, and one flotation tank was placed forward of the mast. These tanks made the Corinthian unsinkable. Copper was used to construct the tanks. We acquired Cori 1 with it's three copper flotation tanks. One of the stern tanks has a dent in it but is still sound and watertight.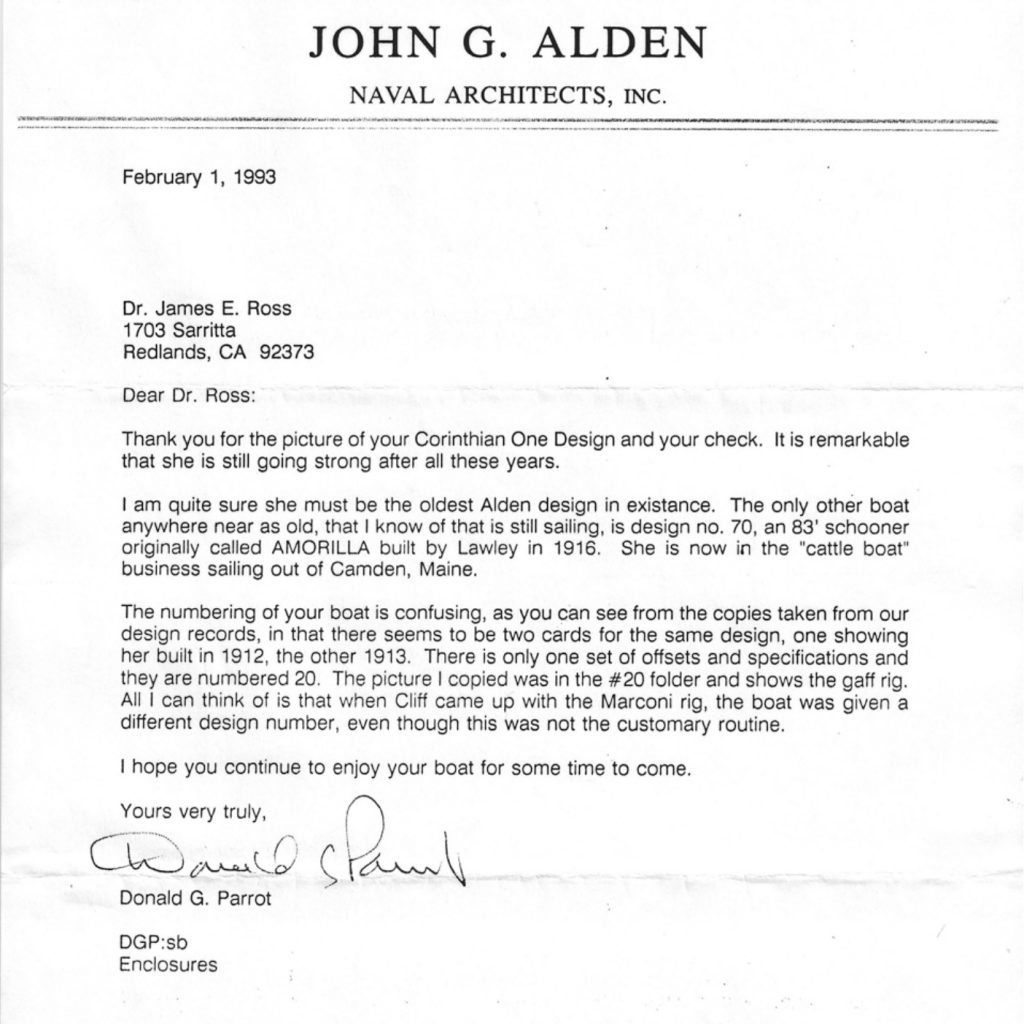 As relayed to us by Dr. Ross, he came upon what turned out to be the last remaining Corinthian at a farm near Lake Champlain. The owner had used Star class sails as replacement to the original sails. In addition, the owner had used a Star tiller handle. The copper flotation tanks were found stored under the front porch. Dr. Ross bought the boat and proceeded with his restoration efforts. As we understand them, these restoration efforts included replacement of rotted boards, chinking, new decking, new sails, and painting and detailing. A motor mount was also fabricated and a motor added (British Seagull) to better negotiate the boat through modern docks and marinas. Dr. Ross also converted a mobile home trailer to become a mobile cradle for the boat. With this mobile cradle he was able to transport the boat to different locations, including various wooden boat shows. During the early 1990's Dr. Ross sought information from the Alden Company regarding the history of the Corinthian. In its responses (attached) the Alden Company indicated that this was the last remaining Corinthian, that is was Alden's Design #31, and that it was likely the oldest remaining Alden boat design still in active use.
Brenda and I first saw the Corinthian in the "For Sale" pages of a 1998 Wooden Boat Magazine. We had been wanting to experience some of the "art" of sailing and immediately appreciated her lines. We eventually purchased the boat, and all related equipment, from Dr. Ross. We, with the help of so many others, worked to further restore and maintain Cori 1 and her mobile cradle. We made the six cradle supports fully adjustable to allow for easier completion of yearly maintenance work and to better balance storage and transportation pressures on the hull. Shortly after our purchase we discovered small areas of rot and knew this would be an ongoing problem, made worse by her new location in the colder freshwaters near our then hometown of Bay City, Michigan. In consultation with various people knowledgeable in boat preservation we decided to employ Gougeon "West System" epoxy techniques specifically designed for carvel planked hulls. A two part epoxy paint (Awlgrip) was used as the final outer coat. These actions have worked perfectly to protect her over these past 18 years of use A new tiller handle was also made for her. Upgrades were made to bring electricity on-board which allows for night sailing, marine radio, and party music. As a knockabout no seating was designed into either version of the Corinthian. Since we have aged with Cori 1 we decided to add bench seating. We were able to design and construct mahogany seating that non-intrusively "clamps" to Cori 1's mahogany floorboards. These seats can be removed and reinstalled as desired. Attached are pictures taken of her during last year's sailing season (2015). We will be sailing her again this year. She is currently docked and stored at the Irish Boat Yard in Charlevoix, Michigan.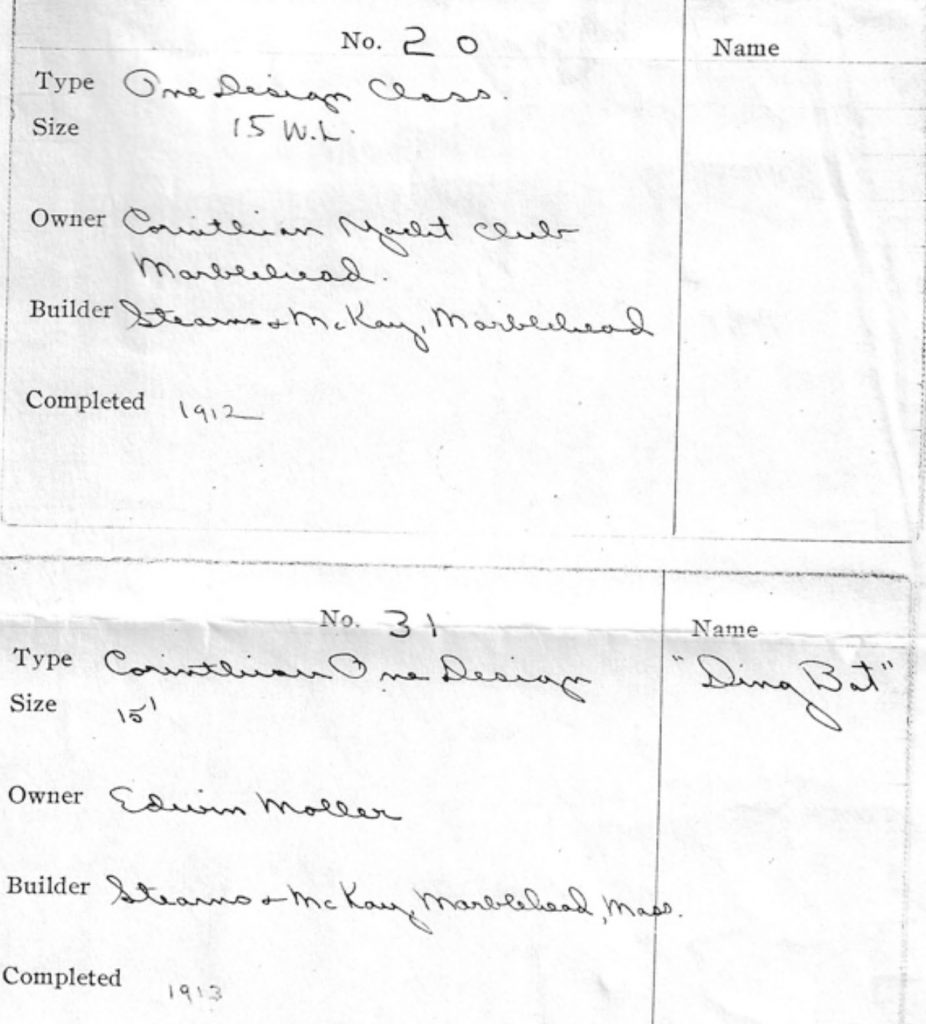 As you may be aware the Alden Company is no longer in business. We learned that M.I.T. maintains a collection of Alden Company documents and designs and a registry of Alden boats (the Hart Collection). We also learned that the registry has the Corinthian boat that Brenda and I named "Cori 1" listed as being named "Dingbat". As indicated in one of the attached documents a Corinthian Marconi rig sloop is identified as being named "Dingbat" (an old loggers tool). We discussed this matter briefly by email with a representative at M.I.T. Based on that discussion we cannot see any facts that directly link our Corinthian to the one in the picture so we continue to know her as "Cori 1". However, for similar reasons our "Cori 1" is identified as "Dingbat" in the M.I.T. registry.
As stated previously, this presentation represents our current understanding of her history based on written and verbal information provided to us. We hope that additional information may become available in the future that will better clarify and provide additional accuracy to the history of the last remaining Corinthian, Cori 1.