Type: Three Masted Steel Schooner
1920 – Undaunted – 1923 Dauntless – 1942 G. K. Dauntless
LOA: 198′ 6.5″ / 60.53m
LWL: 150′ 0″ / 45.72m
Beam: 33′ 8.5″ / 10.30m
Draft: 17′ 0″ / 5.18m
Hull Number: 535
Rig: Schooner
Mast: Lower section steel, topmast wood
Displacement: 590 gross tons
Crew: 26
Designer: Theodore D. Wells
Built By: Staten Island Shipbuilding Company, Port Richmond, S.I.
Original Owner: Commodore Robert E. Tod, New York, N.Y.Y.C.
Contract Cost: $250,000
Contract Completion Date: May 1st, 1911
Launched: April 13, 1911
Status: Wrecked
Photo Credit: Charles Washburn, Great Grandson of Theodore P. Burgess – Nathaniel Livermore Stebbins
Historical:
1951 – Wrecked
1920 – Francis R. Mayer installs auxiliary motor during the Winter of 1920.
1920 – Narrowly misses destruction off Orient Point. Tugs used to pull her of bar. Coast Guards says water is full of rocks and vessel escapes miraculously.
1920 – Francis R. Mayer, Vice Commodore of the Atlantic Yacht Club, New York
1912 – Largest Sail-Powered-Only Yacht in America
1911 – Largest pleasure sailing craft ever built in America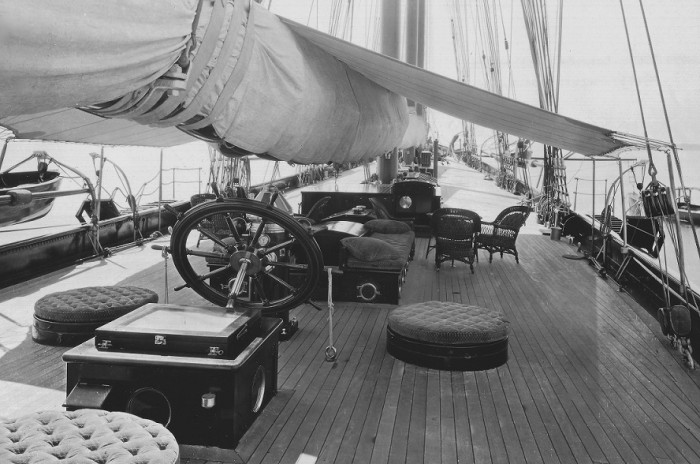 Known Racing History:
August 11-13, 1911 – Brenton's Reef Challenge Cup – Won against the Yacht Atlantic – The cup had been held by the Atlantic since 1905 – A light breeze saw the Atlantic, from Brenton's Reef Lightship to Ambrose Channel Lightship, garner a 35 minute lead on the 131 mile leg. On the return the breeze freshened the two great yachts were neck and neck with the Karina overtaking her onto a 1h. 12m. 10s winning performance. Elapsed time of 38h. 28m. 50s.
September 11-12, 1911 – Cape May Challenge Cup – Distance 214 miles – Ambrose Channel or Scotland Lightship to and around the Five Fathom Lightship off Cape May and back to the starting line. – Won by the Atlantic – Elapsed time 32h. 26m. 20s – Second Place Karina – Elapsed time 32h. 58m.
The Wall of Remembrance – The Owners, Crew & Notable Guest of Karina/Undaunted
Owner – 1920 – Undaunted – Rear-commodore Francis R. Mayer
Owner – 1918 – Karina – France and Canadian Steamship Company (merchant marine training purposes.
Owner – 1912 – Karina – Theodore P. Burgess, Dedham
Owner – 1911 – Karina – Robert E. Tod, New York
Crew – Karl Oscar Olander (Compiled by Grandson Peter Olande