Three Great Herreshoff Restoration Candidates
Through the great response that Artison Boatworks received from the Bar Harbor 31 JOKER…restoration efforts have led to researching other similarly prestigious candidates. Here are three Herreshoff yachts that are available and too special to pass by: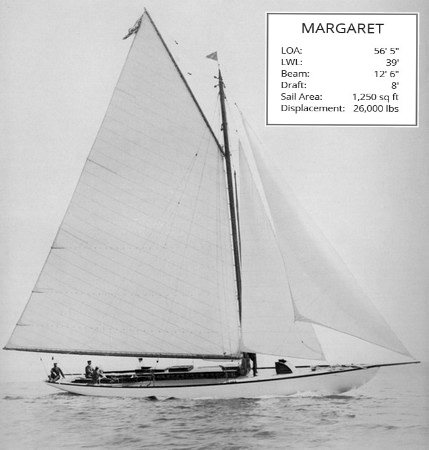 MARGARET (HMCo #621)
was launched in June of 1904, and at 56 ft. 5 in. on deck is notably larger than the New York 30s, Bar Harbor 30s, and Buzzards Bay 31s that were built around the same time. MARGARET and her twin sister COCK ROBIN II were not designed to fit a particular racing rule, and thus represent N. G. Herreshoff's very best ideals for a combination of cruising and racing ability.
In an article from WoodenBoat magazine, Maynard Bray points out that although her interior layout is similar to the aforementioned designs, "she's much more sumptuous; having chests of drawers, glass-fronted lockers, pull-out settee/berths; boarding stanchions and a ladder; davits both port and starboard for small boats; wheel steering; and best of all, four fluted columns that define the main cabin's seating." Another significant difference is her six feet of headroom throughout the length of her cabin, as opposed to 5 ft. 6 in., which was the standard of the day.
To return MARGARET to her former glory will require a full restoration, but Artisons  can't imagine a better combination of cruising comfort, racing ability, and downright class.
Of all the Herreshoff racing classes ever built, the New York 30s built in 1905 are perhaps the most celebrated; claiming the highest percentage of surviving boats relative to the number built. They were the first one-design class built to N.G. Herreshoff's Universal Rule, which yielded a more sea-kindly hull shape with shorter overhangs and sharper ends at the waterline. New York 30s are reported to rarely require reefing, and Artisons knows of at least one that is regularly single-handed! With regard to modern-day classic rating formulas, the NY30s continue to place near the top on corrected time – both here in the Northeast and in Europe.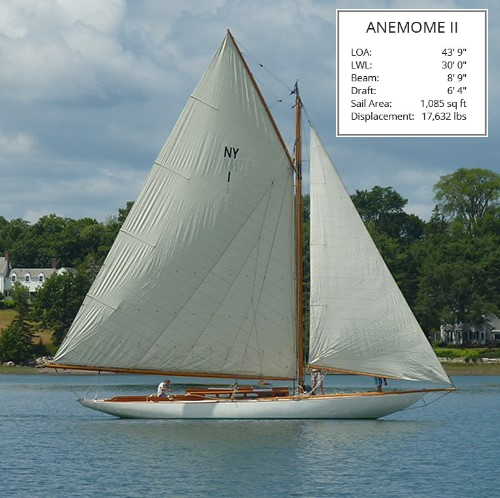 ANEMONE II (HMCo #647)
a New York 30 #18 currently awaiting restoration. For more information on the New York 30s and a virtual sail, check out a great video by OffCenterHarbor.com: https://www.youtube.com/
In yacht design every measurement is a compromise, and this last candidate is one Artisons recently discovered. This boat's first owner (who commissioned the design), the Buzzards Bay 18s and Buzzards Bay 25s were deemed a bit too small to feel comfortable in a fresh breeze with a few feet of chop, and they both lacked the space to sit comfortably down below and make tea on a rainy day.
This client planned rarely (if ever) to be sleeping aboard so a New York 30 or a Bar Harbor 31 would be pushing the limits of what he and his partner felt comfortable handling without assistance.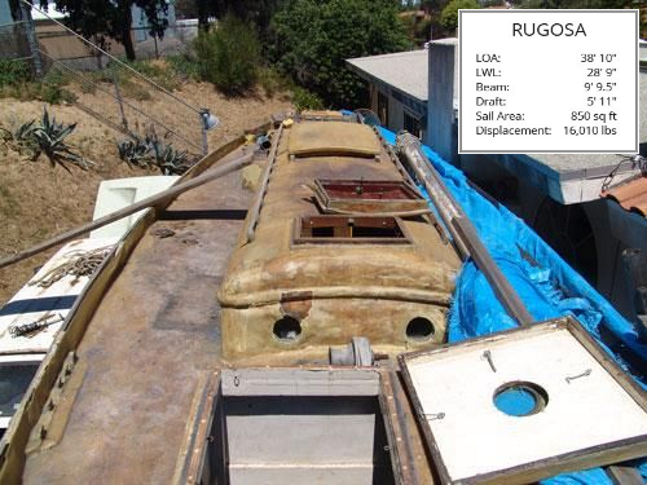 RUGOSA (HMCo #608)
built in 1903. At 38 ft.10 in. on deck, she is five feet shorter than a NY30 with correspondingly less sail area and offers a wonderfully cozy interior with space for retrofitting an inboard diesel. RUGOSA strikes me as a perfectly proportioned and modest balance between a simple daysailer and a powerful racer.
She's located in California in derelict condition and would require a total restoration.
All three of these boats are in private hands, but currently available for restoration. Wooden sailing yachts of this type are true marvels of art and engineering – deserving of reverence and worthy of benefactors who will insure the lessons they have to teach us will not be forgotten. And, they're becoming scarce!
The rewards to be earned in undertaking such a project are invaluable – particularly in this day and age: bringing back a legend, keeping skills alive, and enjoying the restoration process and the sailing that follows it. It's hard to think of a better investment!
The crew at Artisan Boatworks are avid sailors and have built more licensed replicas of Herreshoff yachts than anyone since HMCo closed its doors in 1944. It would be an honor for Artisons to work with you on the authentic restoration of any one of these national treasures, and if necessary, provide for a sailing crew and for off-season storage and maintenance.