THE "TWO-TWENTY-FIVE"
In 1936 Raymond Hunt along with engineers Bror Tamm and Gordon Munro decided to build a 36'0″ prototype at the Lawley Yard in Neponset, Masachusetts. Although there were doubts about her potential sailing abilities, she quickly proved doubters wrong. But, at the time, no one seemed to like the prototype, she was too peculiar, and slab-sided for her size.
After much thought and consideration the Raymond Hunt brain trust decided to scale down the 36′ prototype twelve feet. The new yacht was called at first the Lawley 110 then the National 110 and eventually the International 110, which became the forebearer to Raymond Hunt's 10 series of Yachts.
In 1939 The Corinthian Yacht Club members, of Marblehead, Massachusetts,  were looking for a spirited one-design  club boat for Massachusetts Bay, having searched for a low cost, low maintenance solution they decided on and sponsored the Lawley 225.  Further evolved and improved by C. Raymond Hunt and Frank C. Paine, "Egeria" was the first of the 225 class boats, known as 225/1.  "Egeria" proved to be very fast, beating most of the class boats in Marblehead except the 30-Square-Metres.
In the early forties, when most yards were at capacity producing war effort ships, Lawley's, decided  to enter into a sales contract with the Cape Cod Shipbuilding Company of Wareham, Massachusetts, whereby CCS purchased the entire building rights to the line of small sailboats developed prior to the start of World War II. This agreement allowed Lawley's pre-war brand to be constructed without delay  The pre-war list included the Lawley 110, now known as the International 110, the Lawley 225, the Lawley 15′ sloop, and the Lawley 8′ pram.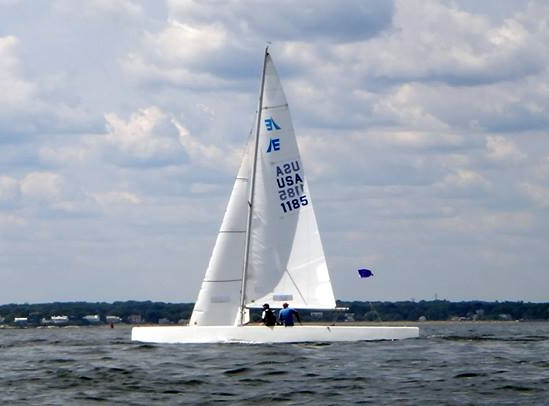 Hunt "Lawley 225″ Class Specifications:
LOA: 35'6″ / 10.85m * LOD: 35'6″ / 10.85m * LWL: 26′ 0" * Beam: 5'11 / 1.55m * Draft: 5′ 00 / 1.52m * Ballast: 1,000 lbs * Displacement: * Original Sail Area: 225 * Yard Number: Prototype * Hull material: Weldwood Construction * Rig: Sloop * Designer: C. Raymond Hunt * Built by: George Lawley & Son, Neponset, Massachusetts * Year First Built: 1936 * Contract Cost: $1,000
Past Ownership (Class) History:
1.) Lawley 225 Class – (Egeria) sail number 225/1
2.) Lawley 225 Class – (Briggs Cunningham- Top 6-metre sailor)
3.) Lawley 225 Class – (Brumby Tom Callahan) – (Brumby Museum of Yachting, Donated by Mr. Callahan) –  (Jaws  ?) –  (Dagger  Ted Boynton)
*Three class boats that we know about (so far)
Known Racing History:
2014 – MoY Classic Yacht Regatta Class Grand Prix Winner (Dagger), skippered by Ted Boynton
1993 – MoY Classic Yacht Regatta Class D Winner (Brumby), skippered by Tom Callahan
Known Restoration History:
Historical:
Dagger is the last remaining, in sailing form, Lawley 225 in existence. A second hull was reported to be in the Midwest and is currently being used as a flower box.
Jaws – Dagger – Previous owner used a J-24 rig, current owner sails with an Etchell's rig
Credit:
Photo credit of Blake Jackson – MarbleheadStudios.com
Photo credit: Ro Fenandez – Andesvision.com
Courtesy of: Bill Platt – 110/210 Brochure