Sydney-Hobart Race Update (Racetime : 02:01:30 – 28 December 2015, 2:30 PM) Comanche in first place with 67.5 miles DTG with Rambler 20.6 miles behind. There's a large white stretch of no wind hanging over Tasman Island & Storm Bay that could well determine who wins. The dilemma for Comanche is that she has to enter Storm Bay first, potentially highlighting where not to go to her opponent Rambler. For both, it's nerve-wracking and slow going – ETA 10pm local, and getting later.
Weather Forecast Map (Scroll to location, double click to zoom in, single click to set forecast tool)
LANDFALL, along with 31 other boats has retired from racing. Landfall has sustained hull damage, and currently she is making 5.2 knots on her way back to Sydney.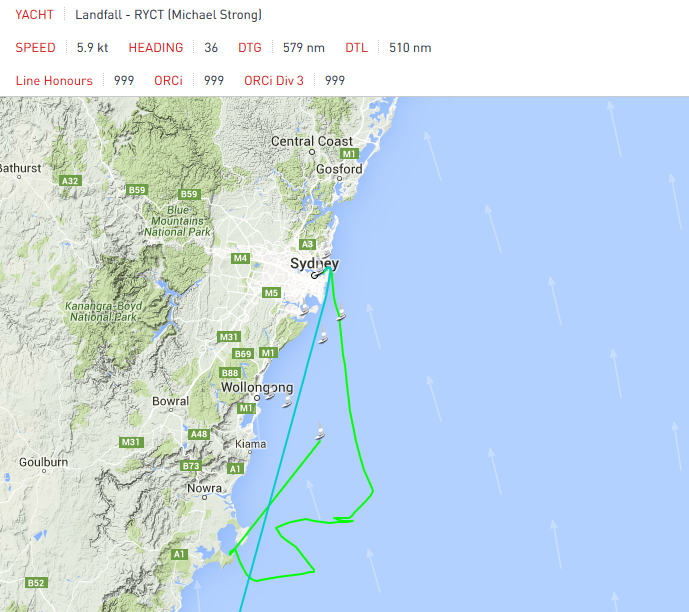 Sydney-Hobart Race Update (00:15:20 – 27 December 2015, 4:20 AM) – With a 180 degree southerly wind shift of 40 plus knots, ten boats have retired from racing, with eight-time line honours winner Wild Oats XI out with a torn mainsail and is returning to Sydney.
LANDFALL, Michael Strong's pretty wood S&S one-off design No. 54, is again the oldest yacht in the fleet. Built originally as a yawl, LANDFALL was the first S&S built outside of the USA – by Percy Coverdale at Battery Point in Tasmania in 1935.  LANDFALL has previously contested the Sydney Hobart four times, disappointingly retiring from the race last year with sail damage that left her floundering at the back of the fleet. She finished seventh in 1952, retired in 1954, and competed again in 1976 when she was 40, and finished 52th overall. LANDFALL returned after a long absence last year to celebrate her 80th birthday and the 70th Hobart. It was a fight to get her to the start, with Strong sailing her up from Tasmania. His main aim this year is to finish the race.
LANDFALL is currently in 18th place in ORCi – Div 3