Departing England in 1845, commanding officer Captain Sir John Franklin, with a flotilla of two bomb vessels the HMS Terror and the HMS Erebus, set sail for the Arctic to traverse the last unnavigated section of the "Northwest Passage"
The two ships would later became icebound in Victoria Strait near King William Island in the Canadian Arctic, and were abandoned two years later. The entire expedition complement, including Franklin and 128 men, was lost.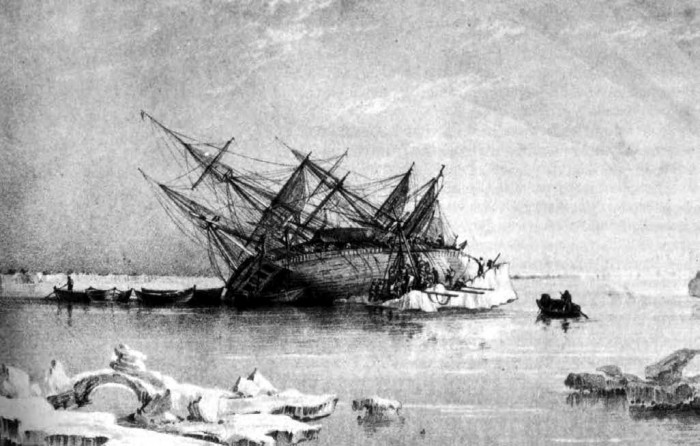 The mystery of what happened to the ships has been ongoing for over 150 years. Many have tried and have failed to find them, but this year the government of Canada decided to renew the search for what they call our "only undiscovered national historic site".
Two days ago, a Canadian coast guard helicopter pilot, spotted a dark U-shaped object in the Arctic snow the size of a man's forearm. Now as a symbolic beacon… this u-shaped object – a Royal Navy davit once used for the liveboats of the two lost Franklin ships – now sits on display in Parks Canada's Ottawa laboratory, linking evidence to Canada's most enduring maritime mystery.
Ryan Harris, a senior underwater archeologist and one of the people leading the Parks Canada search said that the search team found the remains of wreck 11 metres below the water's surface. Sonar imaging shows that that ship appears to be well preserved, but can not differentiate which of Franklin's ships were found.
Since 2008, Parks Canada has led six major searches for the lost Franklin ships. Four vessels led the search this summer — including the Canadian Coast Guard ship Sir Wilfrid Laurier, which launched the helicopter whose pilot made the pivotal davit sighting. It was joined by the Royal Canadian Navy's HMCS Kingston and vessels from the Arctic Research Foundation and the One Ocean Expedition.
Canadian Prime Minister Stephen Harpe, on Tuesday delivered the news of the "great, historic" breakthrough."For more than a century, this has been a great Canadian story and mystery,"